COVID -19 pandemic has made chaos worldwide to affect our physical, mental as well as economic state. People have been trying to overcome all the obstacles except one, which is PSYCHOLOGICAL ISSUES.
Mental health issues have always been an underrated topic. And, this is the sole reason why at this time when the risk of stress and anxiety is at a peak, yet nobody pretty discusses it. Leave aside a discussion they are not even ready to accept.
Fear and anxiety about a life taking disease can be pretty overwhelming on top of our life problems. Hence, let's explore the possible kinds of stress we might undergo. Along with that, their symptoms followed by a few tips to walk in the path of emotional wellbeing.
Kinds of Stress during a PANDEMIC
Coronavirus has plunged the world into uncertainty, and the constant news about the pandemic can feel harsh. Today we are all grieving. We are mourning the loss of our freedom, an envisioned future, and the lives we used to have.
We are undergoing a degree of grief. Many of us are fearful about work, health, family, and the future.
Consequently, at this time it's very genuine to feel lonely, unproductive, and overthink which leads to psychological issues. This feeling reduces our capability to tackle our pre-existing life issues which give mental stress.
Psychological disturbances do not affect all individuals who have experienced this pandemic. Above all, they are at increased risk for distress behaviors that have equally significant and chronic consequences.
A lot of anxiety is rooted in worrying about the unknown and waiting for something to happen – coronavirus is that on a macro scale,"

Rosie Weatherley, spokesperson for mental health charity Mind.
A pandemic is an extremely unpredictable time. So, we go through a variety of mental crises and is followed by a different series of symptoms. We can experience physical as well as psychological symptoms. Let's highlight a few of the important physical symptoms.
Physical Symptoms:
At times of internal as well as external pain or discomfort, physical changes are the first step towards their visibility.
Our bodies can give a hint of mental health issues through bodily discomforts like headaches, neck & shoulder pain, back pain, upset stomach, a lump in the throat, heavy chest, tight muscles, and lack of appetite.
These are general symptoms that we often undergo. Therefore, we might not be able to get the idea that we are in stress or having anxiety. Consequently, these symptoms are accompanied by psychological symptoms.
TIPS TO ATTAIN MENTAL WELL BEING
Stay Connected
The quarantine can make you feel disconnected from others. And, we all know the consequences of living with too much stress of being disconnected. Hence, we also have some great tips to overcome this.
We can maintain the connections during this self-isolation with our loved ones through creative means which can help you stay healthy.
Try a group video call using social media, or leave a short good morning message or just give them a call. Other people maybe going through the same distress as you are. Hence, you ease them as well as yourself.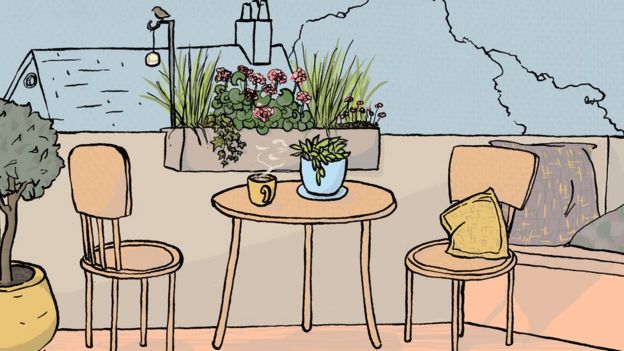 Move
There are a lot of physical movements we can take over while staying at home as well. Exercise, dance, and walk. Movement can increase your endorphins, improve your fitness and help you feel good about yourself.
Along with movement, the physcial touch is also an important aspect in human lives.
The need for touch is very much like the need for food. You may satiate yourself for today, but tomorrow the need will return

Rinatta Paries
The touch from another person slows down the heart, helps us regulate our emotional occurrence, and enhances serotonin, the natural antidepressant in our system.
We cannot go out and meet and embrace our loved ones. But we have an alternative for this as well. Petting an animal brings pleasure and lets you physically connect with a being that loves you unconditionally. And, unfortunately, if you don't have a pet, you surely have yourself to give a pat on your back.
Embrace the routine
Our normal routine is changed due to the lockdown. we have an ample amount of spare time, so we overthink. Hence, instead of that what we can do is occupy this time of ours with something fruitful.
So, try to maintain a normal routine as much as possible. Take up some activity and have your own routine set. Consider scheduling movement into your day.
And embrace this schedule you create for your improvement.
Unhook yourself from Stress
It is genuine to have stressful thoughts during this unsettling moment. It's near impossible to avoid social media or news. But what we can do is, we can unhook ourselves from these stressful thoughts.
The unkind thoughts are the fuel to the fire of your anxiety and stress. Hence, be generous in your interactions and how you are thinking about yourself. Be kind to yourself and your feelings. It is reasonable to feel out of sorts with all of these changes going around us.
At the end of the day, take time to reflect on how grateful you are.